Luxe A1 Decoupage Paper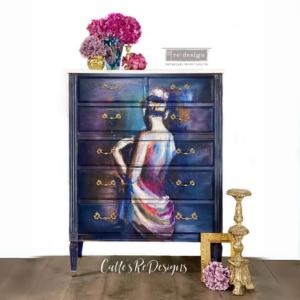 Our most luxurious specialty paper, these beautiful A1 sheets feature a machine-made, fibrous texture for a delicate and unique look. The thickest of our papers, the A1 size allows for easier usage, placement, and durability, while being tear-resistant, wrinkle-resistant, and unlike thinner tissue and paper materials on the market. The unique ink process used on this paper allows for a brighter and more vibrant look and finish while providing a reversible design.
Compatible With:
Decoupage Gel, Soft Gloss or Matte Gel, Polyacrylic, Mod Podge, Gesso, spray adhesive.
Use on:
Furniture, wood, canvas, clay, tile, glass, and other surfaces.
Attributes:
Thickest, Heavy-Weight Paper, Mulberry Paper, Opaque, Reversible Design, Slubbed, raised fibers, User-friendly, Non-wrinkling, Repositionable, Not waxy or glossy, Handmade, artisanal quality, Not parchment or copy paper, Can be layered, Can be painted over, Very durable.
Luxe A1 Decoupage Paper